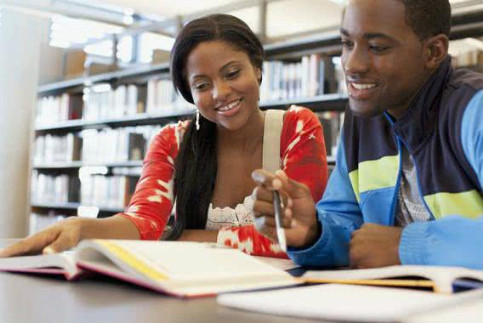 All you, probably, know what an essay means. But the word "synthesis" usually gets every student a little bit confused and lost. Well, fortunately, we know how to help you, and this article would be your ultimate writing guide for synthesis essay. Let's start right from the beginning.
What is a Synthesis Essay?
A synthesis essay is all about combination. While writing this essay type you need to be focused on different factors and ideas at once. Usually, the task contains a sample text that you as an author should analyze.
Actually, analysis of the given content is a key point in the entire synthesis essay writing. You need to work directly with that prompt and find out its purpose, writing style, rhetoric, and the main argument. Generally, you must tell what the author of that prompt wanted to express and what his tools were. Your own essay should be built around that text and your main argument.
Common Topics for Synthesis Essay
Your synthesis essay should be built around a prompt with perspective for negotiation and discussion. For example, you may analyze text written in Germany during WWII and get your argument with view on modern society and history of that period. It should be content with various points of view possible. Here are some good topics to write your synthesis essay:
Good topics would be ones that are debatable, for example:
DST (Daylight Saving Time)
Abortions
Wage and its minimum
Immigration
Globalization
Nature protection
Weapon control
Social media and its influence on humanity in general
How to write a thesis?
First of all, you need to read the prompt. Even if you are familiar with the source, just push yourself and read it once more. Then realize your position. Do you support the example text or have a negative review? Then structure your claim and write it down as your thesis for the whole synthesis essay.
Synthesis essay outline writing
Lots of students just don't realize how important this step is for writing any type of essay or other academic papers. This is the best point to get your essay structure right and correct. The outline is your road map. In case you write a typical synthesis essay with three parts (Introduction, Body, Conclusion), you should write three different parts in your outline. Write down all the arguments, supporting facts, and evidence in a proper order according to your structure.
Each point should approve the statement you are supporting. But, you should also acknowledge factors that go against your main thesis and idea. This step will make your essay even stronger and more diverse. Please note, that analysis does not mean summarizing. You need to answer questions but not just ask them.
Synthesis essay structure
As any other essay synthesis has very typical structure and it looks like that:
Introduction
Thesis
Main point 1
Main point 2
Main point 3
Body
Main point 1
Evidence
Analysis of Evidence
Main point 2
Evidence Analysis of Evidence
Main point 3
Evidence
Analysis of Evidence
Conclusion
Restate your main idea and get your point of view straight
Synthesis essay formatting
As like structure, the formats of synthesis essay are also very typical for all academic essays. There are three most widespread formats: MLA, APA, and Chicago style. Each of these formats has their typical areas of use. For example, APA is mostly used in Psychology, Education, and Science. Chicago style is a common format for business purposes while MLA works best for Humanities.
Synthesis Essay for AP English Language and Composition
AP English Language and Composition is a tough course of dealing with. The main point of this course is about your knowledge of the subject and understanding of the material you are working with. And your grammar and perfect formatting do not pay that big role for your essay grade. The main factor that influences your grade is about defending your claim and point of view. As we said before, it is not enough just to summarize the source.
There are three main areas of AP English and Composition course that you should focus on:
The argument is the first and the simplest point. You just need to come up with your statement and get as many supporting facts as you can. It all should work to convince your reader that your point of view is right.
Synthesis is the point that requires some deep research and identifying various areas of one single text. Also, you should identify the agreements and disagreements between sources. It will also help you to come up with your own claim.
Rhetorical analysis is the direct work with prompt and its author. Find out what were his rhetorical tools to appeal to the reader. What was the main idea about the text?
General Synthesis Essay Tips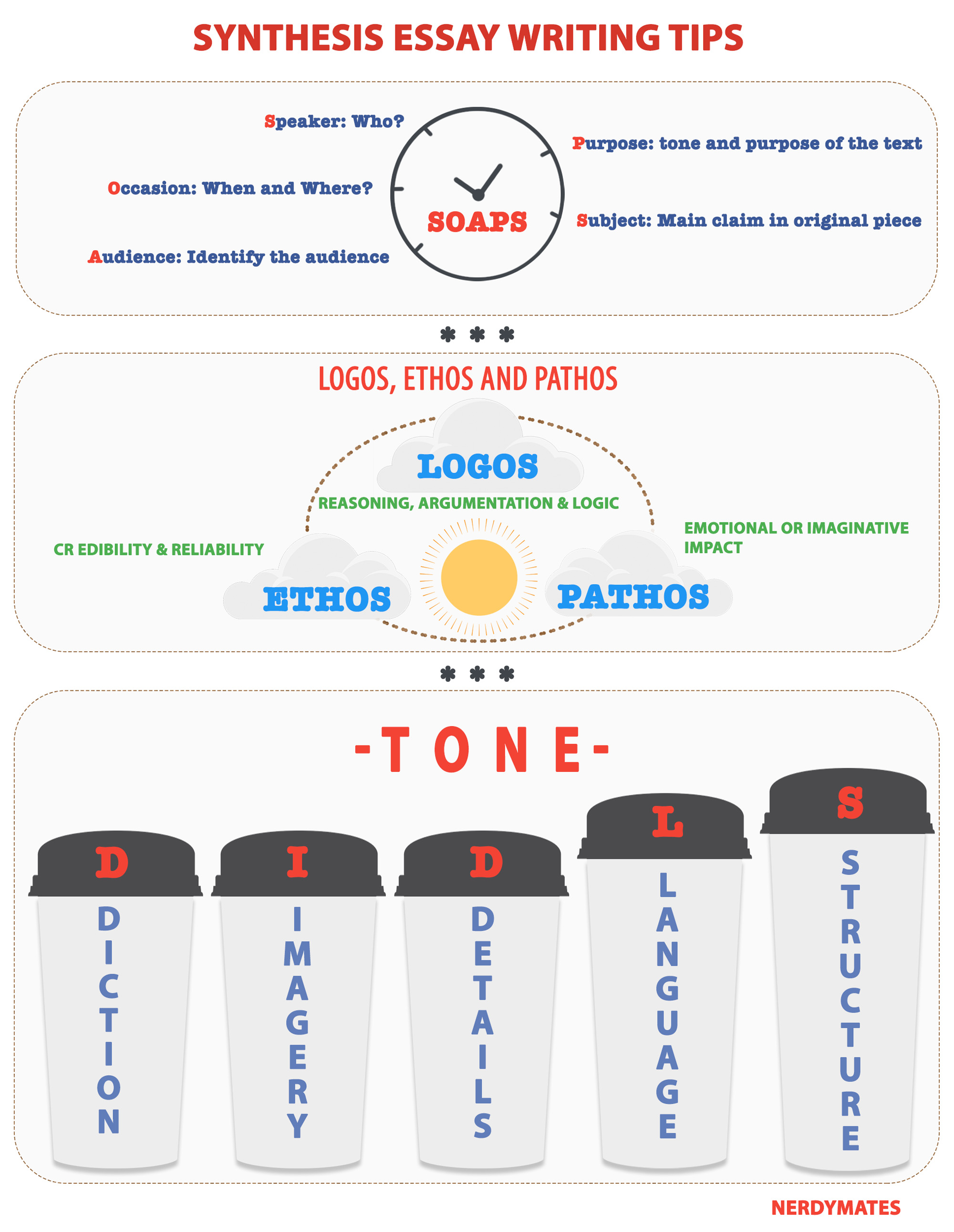 Let's talk about acronyms. There are two main ones that will help you to deal with this essay:
Speaker: Write who was the speaker or writer of the original source. Tell what you know about his life and background.
Occasion: Identify what was the time and place when the source of your synthesis essay was created. Then get the reason why it was created. You may come up with your own suggestion for a reason and build your text around it.
Audience: Identify the audience of the original text, not yours.
Purpose: Identify the tone and purpose of the text.
Subject: What was the main claim for the original piece?
Here is another great strategy to write your synthesis essay. These three points appeal to different factors that you should identify and analyze in your essay.
Logos – is for a reason. If your sample text has various definitions and quotations, you need to constitute a wider range of backup info, if you want to get successful with your essay.
Ethos – is for philosophy. It works great for sources that demonstrate credibility and reliability of the speaker.
Pathos – is for emotions. It works great for vivid imagery texts with strong language. You need to connect your reader with your source emotionally. But it is a tough task to change someone's point of view if the person is already linked to the source emotionally.
It is a simple explanation of these three points, and if you want to get a higher grade with your AP Lang, you need to read more about it.
 The last tip to write your synthetic essay well is to appeal this scheme for your analysis. Get these five points identified: Diction, Imagery, Details, Language, and Structure. But you are free to add anything else to your analysis in case it is special.
How to get a better grade with your essay?
Here are few main factors that influence your grade for synthetic essay writing:
The effective statement about the assigned source and its topic.
Complete understanding of the source and its subject.
Correct synthesis of sources and position identification.
The writer appeals to his researched arguments, not the source itself.
Clear structure and writing style.
Good and correct organization.
There are no grammar or structure mistakes.
Correct quotation of the source.
Also, you should note that the best essays with the highest grades always are those with the strong writing style. It means that your essay should be a standalone piece but not just a simple exam essay to get it done. Try to develop your own writing style and get your soul into your essay. You may read some examples of the most popular and successful essays to borrow some ideas and other factors to make your own paper stronger.
Some Extra Essay Writing Advice
Well, these were the basic tips and facts about s synthesis essay and its writing specifics. Also, it is recommended to read more about analyzing AP English essays from other sources on the web. It will help you to develop a stronger and more correct view of the task itself. But the most important thing you need to pay attention to is the thesis statement.
This point plays a great role in your essay, and you need to identify it perfectly. It will be a total failure if the reader will not understand your point of view. All your arguments will look like no purpose and ridiculous.
What we want to advice is to ask yourself a question if your thesis statement is really about your feelings and point of view. Also, if you are writing your essay with some too short deadline, for example, right on an exam, you need to stress on your argument in every single paragraph. Then connect each of your ideas to the thesis statement. How should you do it? Well, just write down your thesis statement and put it before you while dealing with your essay. It will help you to focus on it and remember about adding it every time you write a new paragraph.
If you're looking for someone to help you with this tough task, you can always call for our professionals. Just fill in the simplest order form, and all your academic troubles will be solved immediately.
Thanks for sharing!
Need help with your papers? – How It cost?